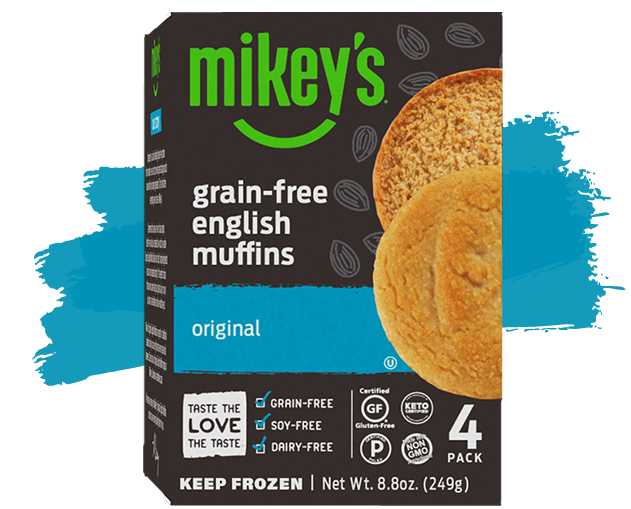 June 29, 2020
Mikey's English Muffin a Keto, Paleo-Friendly Bun Option for Summer Grilling
Mikey's, provider of high-quality, nutritious frozen products that are made with simple and recognizable ingredients, offers a keto and paleo-friendly bun option this Independence Day with its Mikey's Original Grain-Free English Muffins, featuring only 2 net carbs and 9 grams of protein. No more lettuce wraps!
Founded by Michael Tierney, a classically trained chef, Mikey's meets the high standards required to deliver on taste without compromising on nutrition. Utilizing his culinary training, Tierney used only eight simple ingredients found right in his kitchen to create his first product, the English Muffin, and the recipe has not changed. Mikey's is committed to creating products that not only taste great, but are also free from many common allergens such as gluten, grain, soy and dairy to best serve all people no matter what allergen-free or dietary lifestyle they follow. Free of all additives and preservatives, Mikey's is dedicated to clean, nutritious and simple ingredients that leave you feeling great.
"Gluten-free is just one attribute of Mikey's. Our English Muffins are certified keto, paleo, gluten-free, dairy-free and low in carbs," said Tierney.
Mikey's continues to be a market leader in meeting the needs of allergen friendly, clean label, better-for-you consumers by offering meal solutions for every eating occasion. For kids and adults following a ketogenic, low carb, gluten-free or dairy-free lifestyle, Mikey's offers great tasting food to meet their everyday needs.
Mikey's is available in more than 7,000 stores nationwide in the natural and grocery channels.