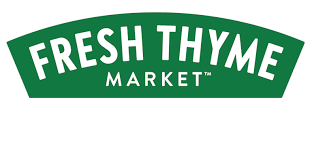 February 9, 2022
Fresh Thyme Market, in Partnership with Fresh Thyme Customers, Donates Over $800,000 to Feeding America
Fresh Thyme Market, a local, community-focused Midwest grocer dedicated to enriching the lives of the communities they serve, is thrilled to announce a donation of more than $800,000 to Feeding America. The donation will be shared across the Fresh Thyme Market footprint, with donations made to local food banks throughout the Midwest. This includes the St. Louis Food Bank, Feeding America Eastern Wisconsin, Second Harvest Heartland, Gleaners Food Bank of Indiana, Forgotten Harvest, Mid-Ohio Food Bank and several more throughout the Midwest.
In 2021, Fresh Thyme Market hosted a Round Up at the Register program across all its store locations, giving customers the opportunity to donate while they shop. Along with Round Up at the Register, Fresh Thyme Market customers were given the opportunity to participate in a Grab and Give initiative. This initiative allowed customers to purchase pre-bagged groceries at checkout allowing those groceries to go directly to local food banks. The funds from the Round Up program, paired with the pre-bagged groceries from the Grab and Give initiative, will be donated to the food banks to help provide food and services to those in need. So many households rely on their local food banks, as well as other hunger relief programs, for food assistance.
"As an organization, Fresh Thyme Market is dedicated to providing customers with real quality food within our local communities to promote access to proper nutrition," said Fresh Thyme Market President, Gerald Melville. "With the culminated efforts of both the Fresh Thyme family and our customers, together we can aid in providing our local communities with resources dedicated to fight against hunger."
Fresh Thyme Market is a longtime partner of Feeding America and their affiliated food relief members. In December, Fresh Thyme Market announced a donation of $150,000 to the St. Louis Area Foodbank School-Based Market Program, a program with the goal of alleviating child hunger in America through the provision of food to children and their families.