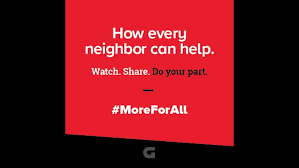 March 27, 2020
Giant Foods Launches Social Media Campaign to Stop Panic Buying
The Giant Company this week took to Facebook to ask shoppers to stop hoarding food and supplies, in a campaign it calls #MoreForAll.
The grocers' Facebook page has a 30-second video anchored to the top of its news feed along with this message:
"There's one thing everyone in the nation's food supply chain can agree on: we all care about getting nutritious, great-tasting food on everyone's table. And as we navigate the COVID-19 pandemic together today, we want to make sure everyone in our community has a full plate tomorrow and beyond. Do your part: shop like you used to and buy only what you need for now. Tag and tell your friends to do the same and let's have #MoreForAll."
Shoppers are asked to only buy what they usually need in order to secure food and supplies for others as well as for local food banks.
Giant is not the only grocery pleading with the public to cease the hoarding behavior, but President Nicholas Bertram this week took the message a step further and wrote in an op-ed in The Philadelphia Inquirer:
"Let's navigate this unprecedented situation as a society. America has always shown its greatness in times of crisis – whether that be something as big as scrap-metal drives in WWII or a community-based fund-raiser for a sick neighbor. By continuing to limit your exposure to crowds and stay home, you're already helping to flatten the curve and get us back to normal as soon as possible. Please bring that mind-set to your grocery list. By giving everyone access to essential items, you'll allow everyone to care for themselves and their families."