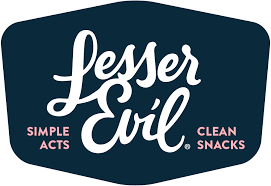 March 2, 2022
LesserEvil Partners with Assorted Brands to Form Clean Oil Crew, Debuting at Expo West
LesserEvil, the better-for-you snack brand on a mission to make healthy, organic, less-processed and sustainable snacks more accessible, has teamed up with A Dozen Cousins, Cappello's, Primal Kitchen and RIND Snacks to create the Clean Oil Crew— a coalition of brands joining forces for an educational campaign, limited-edition starter pack available for purchase today and a special giveaway to educate about clean oils and inspire others to join the movement.
Brands in the Clean Oil Crew aim to educate consumers about products made with good fats including butter, ghee, olive oil, avocado oil, coconut oil and nut oils instead of vegetable and seed oils. The Clean Oil Crew will make its debut at the Natural Products Expo West on March 8-12, 2022.
"At LesserEvil, we have been conscious about the ingredients we use since day one because we define better-for-you as minimal processing—just like you would make it at home," said Charles Coristine, CEO of LesserEvil. "Vegetable and seed oils are becoming more and more common in our natural food world, which is why we called upon A Dozen Cousins, Cappello's, Primal Kitchen and RIND Snacks to help us educate consumers about the processing of clean oils and the benefits of these oils to human health. We want everyone to join us and redefine what it means to be a clean brand and conscious consumer."
Vegetable and seed oils commonly appear in food products, restaurants and home kitchens, which is why the Clean Oil Crew wants to encourage consumers and brands to make a change. To help others kickstart their clean oil journey, The Clean Oil Crew created a limited-edition starter pack, which features exclusive products and vouchers and is available for purchase on LesserEvil.com for $17. Fans can participate in a campaign giveaway for a chance to win a free starter pack and special prizes by sharing their journey on social media, tagging the brands in the Clean Oil Crew and using the hashtag #CleanOilCrew.
The starter pack includes:
A Dozen Cousins (Expo West Booth #N1118): Cuban Black Beans
Cappello's (Expo West Booth #5500): Keto and Almond Flour Pizzas
LesserEvil (Expo West Booth #980): Himalayan Pink Salt Sun Poppers
Primal Kitchen (Expo West Booth #5184): Organic Extra Virgin Olive Oil
RIND Snacks (Expo West Booth #N2045): Straw-Peary Chewy and Apple Chips
The campaign will also feature educational content on social media highlighting vegetable and seed oils, including which oils to look for and avoid, tips for reading product labels, talk tracks for restaurants and social gatherings and more. The Clean Oil Crew creates a positive resource for consumers as they navigate conversations surrounding oils used in their favorite products and seek community and camaraderie in their journeys.
The Clean Oil Crew campaign follows a year of massive expansion for LesserEvil. The brand launched new sustainable product innovations like its Sun Poppers and entered into a new snack category with its PeaNOTs.
Click here for more information.