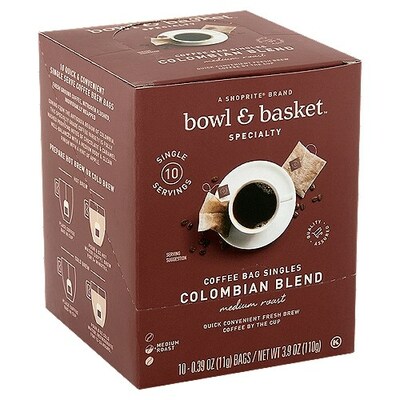 March 16, 2023
NuZee Announces First Private Label Agreement with Wakefern Food Corp.
NuZee Inc., a leading coffee co-packing company, announces its first private label agreement with Wakefern Food Corp., the largest retailer-owned cooperative in the United States. 
Under ShopRite's private label brand Bowl & Basket, NuZee packed and shipped three single serve coffee brew-bag items: Breakfast Blend, French Roast and Colombian.
The Bowl & Basket single-serve coffees launched recently at ShopRite stores. The product will be available in approximately 250 ShopRite locations.
"Wakefern is excited to work with NuZee to bring sustainably-packaged, quality products to its Own Brands line of Bowl & Basket single-serve coffees. We look forward to working with NuZee to expand and enhance packaging for our popular private label coffees," said Pam Ofri, Wakefern's Director of Product Development and Operations, Own Brands.
"We are grateful to our private label customers for making our products available at a larger scale and to Wakefern for expanding single-serve coffee availability through the largest retailer-owned supermarket cooperative in America," said Travis Gorney, NuZee's Chief Innovation Officer.
Founded in 1946, Wakefern has been supporting family-owned businesses for more than 75 years and has hundreds of stores throughout New Jersey, New York, Connecticut, Pennsylvania, Maryland, Delaware, Massachusetts, New Hampshire and Rhode Island. Visit Wakefern Food Corp for more information.
To learn more about NuZee and its innovative initiatives, visit mynuzee.com.