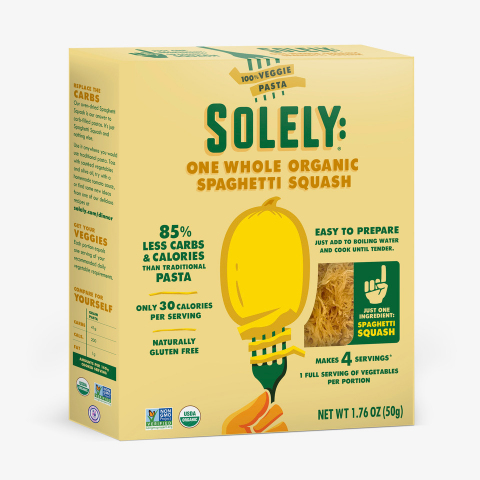 March 6, 2020
Solely's 5-Minute Spaghetti Squash Pasta, Fruit Snacks to be Available at Whole Foods Markets
Solely, the company behind USDA-certified organic, cold-pressed fruit jerky and dried fruit, is entering a new category with its new Spaghetti Squash Pasta, which will be available for sale beginning this month at Whole Foods Markets.
The shelf-stable boxed pasta, which is sliced, roasted and scooped by hand, cooks in just five minutes. It alleviates the cumbersome, lengthy cooking process that often deters seekers of healthy alternatives from vegetable pastas.
"These days, who has time to roast and cook a spaghetti squash for dinner? We make it easier and quicker to enjoy this supper staple without compromising on quality or taste and without additives or preservatives," said Simon Sacal, CEO of Solely. "Vegetable pastas have become a favorite for people looking to incorporate more vegetables into their families' diets, so this was a natural way for us to provide people with such a convenience."
In addition to the new Spaghetti Squash Pasta, Solely has five new flavors of fruit jerky and two new flavors of dried fruit, all launching on-shelf at Whole Foods Market stores nationwide beginning April 1. The new flavors include:
Mango Chili Fruit Jerky and Mango Chili Dried Fruit

Pineapple Chili Fruit Jerky and Pineapple Chili Dried Fruit

Mango Drizzle Fruit Jerky, Pineapple Drizzle Fruit Jerky and Pineapple Coconut Drizzle Fruit Jerky
All of Solely's better-for-you, convenient snacks are certified organic, gluten free and Non-GMO Project verified. Other varietals include takes on mango, pineapple and banana.