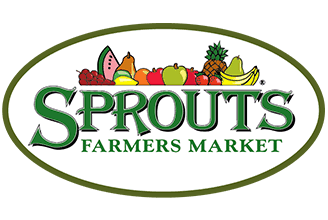 October 27, 2023
Sprouts Farmers Market Debuts New Sprouts Brand Holiday Products
Sprouts Farmers Market, one of the largest and fastest growing specialty retailers of fresh, natural and organic food in the United States, today announced its new Sprouts Brand holiday product assortment. These limited time items are full of flavor and better-for-you ingredients and deliver all the tastes and scents of the holidays without any added colors, flavors or preservatives.
The natural grocer is known for offering customers the season's freshest, most delicious produce around and takes extra care in curating uniquely healthy products to fit any dietary lifestyle. Customers will find joy in discovering new items to celebrate the season with the Sprouts Brand holiday assortment which offers the indulgence and flavor of the holidays with high quality and healthy ingredients.
"We are thrilled to offer such a wide variety of new Sprouts Brand holiday items this season," said Kim Coffin, senior vice president and chief forager for Sprouts. "Customers will discover a wide selection of these tasty treats while also feeling good that our Sprouts Brand holiday assortment is carefully curated and developed with better-for-you ingredients, without sacrificing flavor and the spirit of the season."
Featured Sprouts Brand Holiday items include:
Holiday Bark – Collection Pack! Try Sugar Cookie, Salted Caramel, Cookie and Candy, Peppermint Crunch in a variety of Milk, Dark and White Chocolate.
Mint Chocolate Dipped Coconut Rolls with Sprinkles – A classic favorite, Sprouts Coconut Rolls are the deliciously sweet snack that makes the perfect gift, holiday movie snack or treat for Santa.
White Chocolate and Peppermint Popcorn – Made with pure peppermint oil. Our White Chocolate and Peppermint Popcorn has no artificial flavors, is made with white chocolatey drizzles and all-natural crushed peppermint. It's also made with no high fructose corn syrup, non-GMO corn and oil and 0g trans-fat.
Hibiscus Cranberry Herb Tea – Tart cranberries are blended with sweet hibiscus, creating a joyous cup that finishes with warm holiday spices. 36 caffeine-free tea bags.
Chocolate Peppermint Rolled Wafers – These decadent treats offer the ultimate combination of flavors and textures in every bite, pairing crisp, delicate wafers with delightful chocolate peppermint cream filling. Our classic cookies begin with a paper-thin dough that is then artfully shaped and baked to perfection. Each light, crunchy, rolled wafer is balanced with luscious, creamy chocolate peppermint filling.
Santa Hats – Waffle cones filled with peppermint dark chocolate. Filled with Belgian chocolate. Rich, peppermint, dark chocolate filled crispy mini-waffle cones.
Hot Tea Bombs – Made with White Chocolate – A sampler pack with Classic Chai, London Fog, Pink Chai and Bergamo Crème. Drop a bomb into a mug of hot milk, stir and watch marshmallows pop to the top of the mug!
Classic Holiday Sugar Cookies – A classic favorite, Sprouts Sugar Cookies bring festive cheer. Deliciously crunchy and sweet! Perfect with a cup of hot cocoa on a cold winter day!
Peppermint Bodycare – Limited edition Moisturizing Hand Cream and Moisturizing Hand Wash in a refreshing peppermint vanilla scent that is vegan, cruelty free and paraben free.
White Chocolate Peppermint Bark Coffee – A limited edition flavor available in both Eco Pods and ground coffee is a lightly roasted blend with smooth and minty notes perfect for the holiday season.
Sprouts is open daily and welcomes shoppers with a farmer's market experience and an open layout featuring fresh produce at the center of the store. For a list of stores by region or to see other locations coming soon, visit Sprouts.