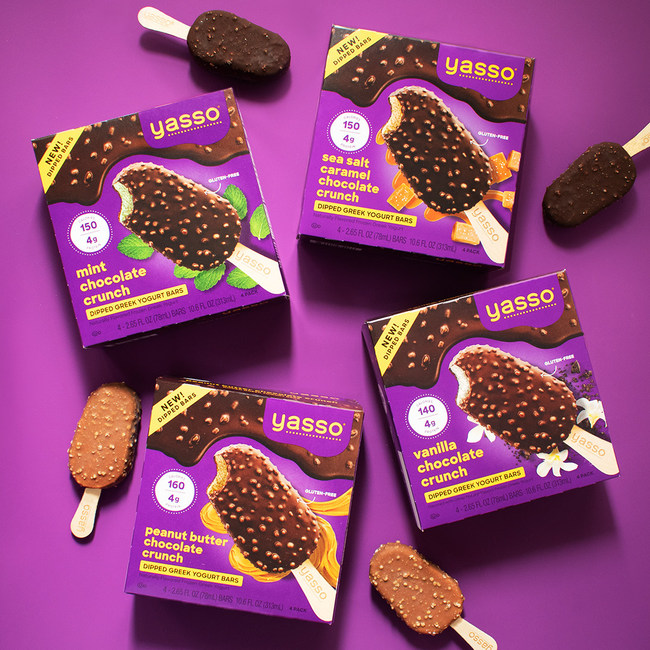 May 11, 2020
Yasso Introduces Newest Product Innovation: Chocolate Dipped Bars
Yasso Frozen Greek Yogurt, the world's first frozen Greek yogurt bar and fastest growing novelty brand, announced today the launch of its newest innovation, Dipped Greek Yogurt Bars .The new additions to Yasso's portfolio of great tasting, better-for-you items come in four indulgent flavors sure to satisfy any craving: Mint Chocolate Crunch, Peanut Butter Chocolate Crunch, Sea Salt Caramel Chocolate Crunch and Vanilla Chocolate Crunch.
New Dipped Greek Yogurt Bars from Yasso
Dedicated to delivering real, craveable goodness in all of its products, Yasso's new Dipped Greek Yogurt Bars feature both a milk and dark chocolatey coating with crisped quinoa covering the iconic, smooth and creamy Greek yogurt bars. Ranging from 140-160 calories per bar with 4g of protein, live and active cultures and no high intensity sweeteners, Yasso continues to push boundaries by delivering uniquely superior frozen treats that don't sacrifice taste for nutrition and deliver goodness in every bite.
"As we start the next chapter of Yasso, new platform and new category innovation will be key to accelerate our growth trajectory," said Craig Shiesley, Yasso CEO. "We will look to create the same craveable, satisfying goodness across these new frozen snacking categories as we have done within our leading bars business, starting with our new Dipped Bars, which deliver incredible indulgence."